972-POLOLU 6-Conductor Ribbon Cable with IDC Connectors 12"
This 12" (30 cm), 6-conductor ribbon cable has a female 2×3 IDC connector on each end that is designed to plug into a 0.100" (2.54 mm) 2×3 shrouded box header. It can also be used with 0.100" male header pins.
This cable is well suited to serve as an AVR ISP programming cable and is included with our Orangutan USB Programmer, or it can simply serve as a custom cable for your electronics project.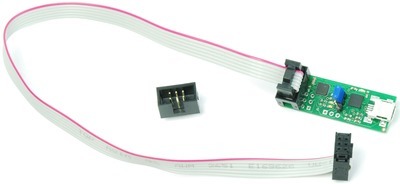 6-conductor ribbon cable with Orangutan USB programmer and 6-pin shrouded box header.