The LF-8800 by Xytronic is a 100 Watt High Powered Soldering and Desoldering Station and external fume extractor.
A combined soldering and desoldering station specially designed for lead-free soldering/desoldering to meet RoHS requirements. The station has a built-in vacuum pump and incorporates electronic circuitry which enables the user to set the soldering tip temperature between 150°C and 480°C (302°F and 896°F) and desoldering tip temperature between 300°C and 450°C (572°F and 842°F) without changing tips or heating elements.
Key Features:
Heater/Sensor Failed Detection: If sensor circuit fails, the heater power is shut down. 


Temperature "Lock-Out" feature:  The temperature can be locked with a password code.


ESD Safe and Spike Free circuitry: The "Zero Voltage" electronic switching design protects voltage and current sensitive components (CMOS devices, etc.) against damaging current and transient voltage spikes commonly produced by less efficient, mechanically switched stations.


Delayed Suction: To eliminate the problem of solder clogging up the tip, a delayed switch feature has been incorporated for the unit that allows the pump to continue sucking for 1.5 seconds after the actuator switch is released


Energy Saver Mode: 

If the station is left idle for 20 minutes, the energy saver feature will automatically engage, resetting the temperature to 150°C from the previous setting.


Iron Working Option:  Both soldering, desoldering irons can be used at the same time. 


Optional SMD Tweezers: Specially designed for SMD chips, SOT, Flat pack IC's etc. reworking. 


Optional Hot Air Pencil (HAP 80): Removes SMD chips and flat packs up to 25mm.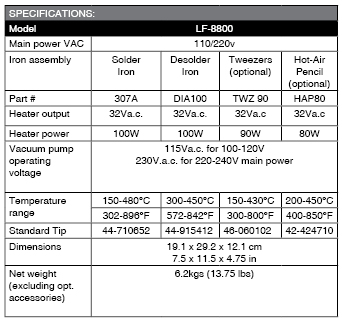 Ships With:
Soldering iron with pre-loaded standard tip

Desoldering iron with pre-loaded standard tip

2 iron holders

Maintenace kit

Rework tweezer kit

426DLX Fume extractor

AC power cord and plug

Operation manual
Instruction Manual for LF-8800
Replacement Soldering Tips Available
Notice for California Residents: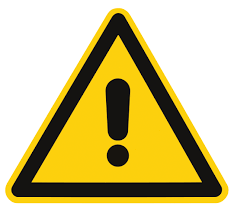 WARNING
: Cancer and Reproductive Harm - 
www.P65Warnings.ca.gov