The WAVE-20125 is an E-paper/E-ink flexible 3-inch display, it has a 296×128p resolution and supports black & white grayscale. With no need for a backlight, the display has a realistic paper-like feel.
Raspberry Pi Pico and other modules are NOT included.
Advantages Of EINK
E-paper display utilizes microcapsule electrophoretic technology for displaying, the principle is: charged particles suspended in the clear fluid will move to sides of microcapsule when an electric field is applied, making the microcapsule become visible by reflecting ambient light, just as traditional printed paper.
E-paper display will clearly display images/texts under lamplight or natural light, it requires no backlight and features nearly up to 180° viewing angle. It is usually used as an e-reader due to its paper-like effect.

Features
Flexible e-Paper panel, the display section is bendable (DON'T bend the FPC section)
No backlight; keeps displaying last content for a long time even when power down
Ultra-low power consumption, basically power is only required for refreshing
SPI interface; requires minimal IO pins
2x user buttons and 1x reset button for easy interacting
Comes with development resources and manual (Raspberry Pi Pico C/C++ and MicroPython examples)
Specifications
OPERATING VOLTAGE: 3.3V
RESOLUTION: 296×128 pixels 
INTERFACE: 3-wire SPI, 4-wire SPI 
PARTIAL REFRESH TIME: 0.3s
OUTLINE DIMENSIONS: 79.0 × 36.7mm
REFRESH POWER: 26.4mW (typ.)
DOT PITCH: 0.227 × 0.226mm
DISPLAY COLOR: black, white
GREYSCALE: 2
VIEWING ANGLE: >170°
FULL REFRESH TIME: 2s
DISPLAY SIZE: 66.9 × 29.06mm
STANDBY CURRENT: <0.01uA (almost none)
Compatibility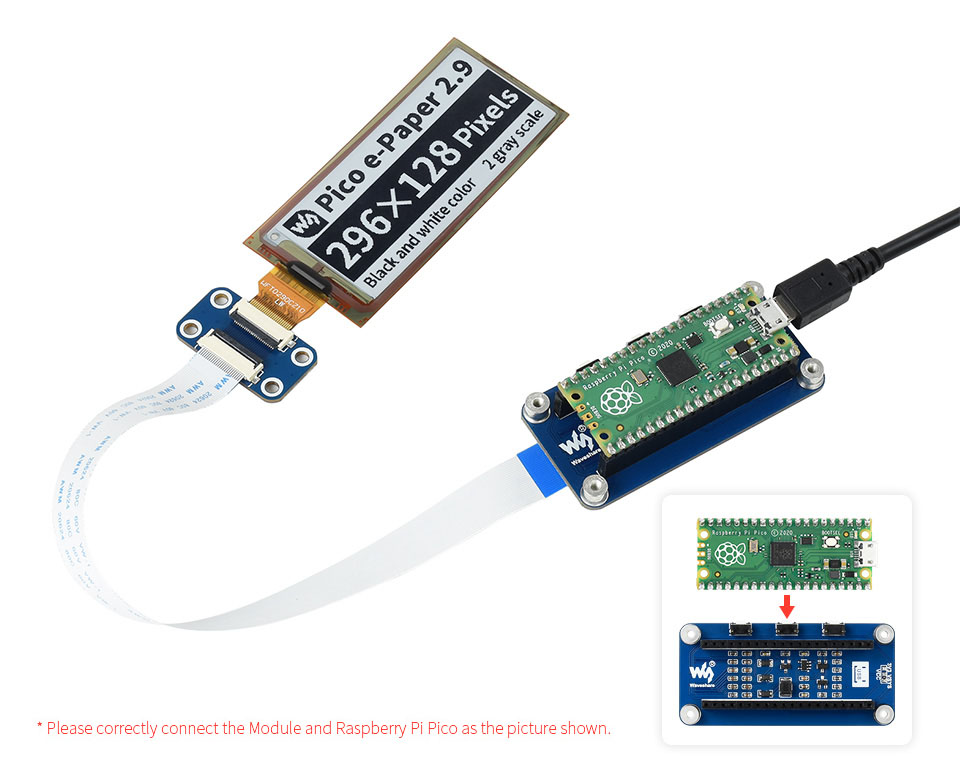 Board and Dimensions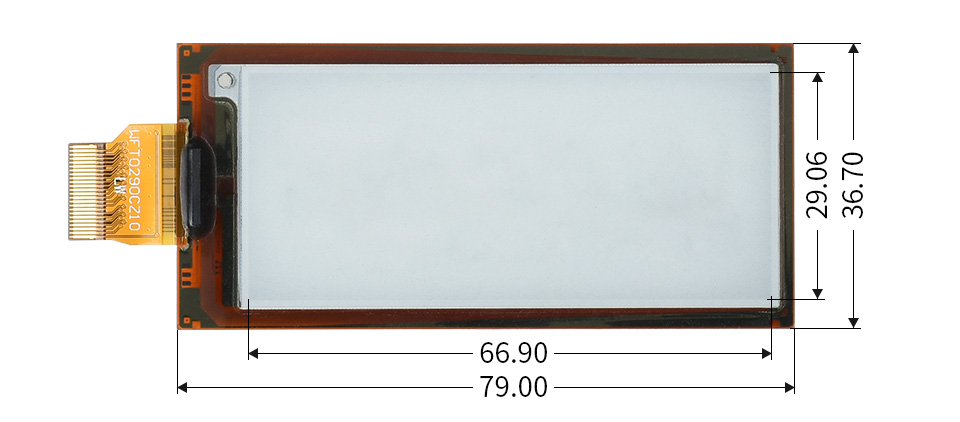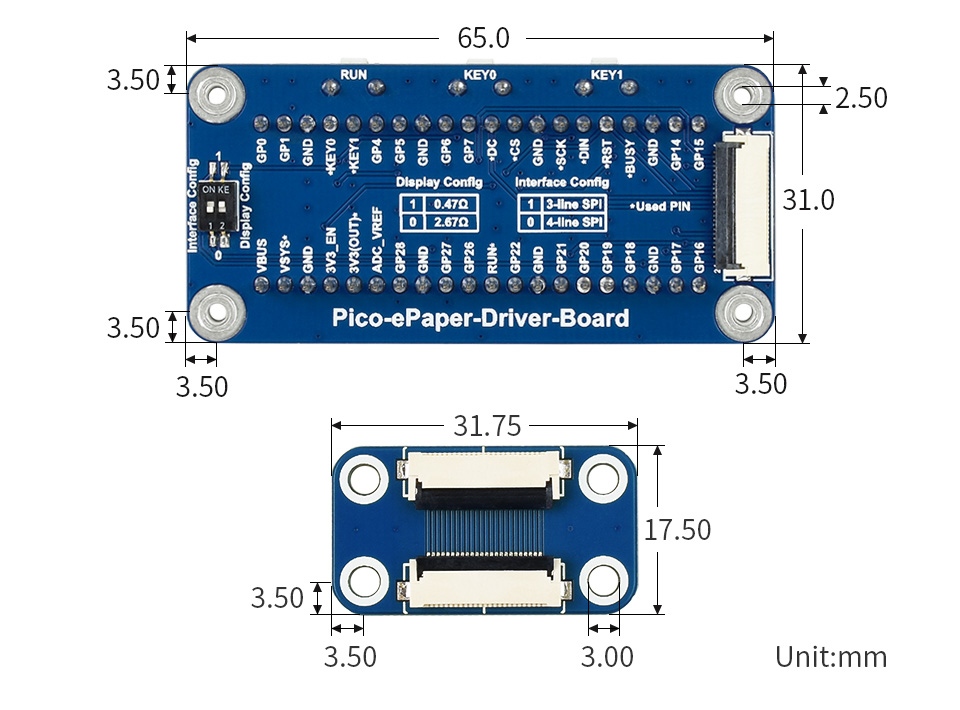 Pinout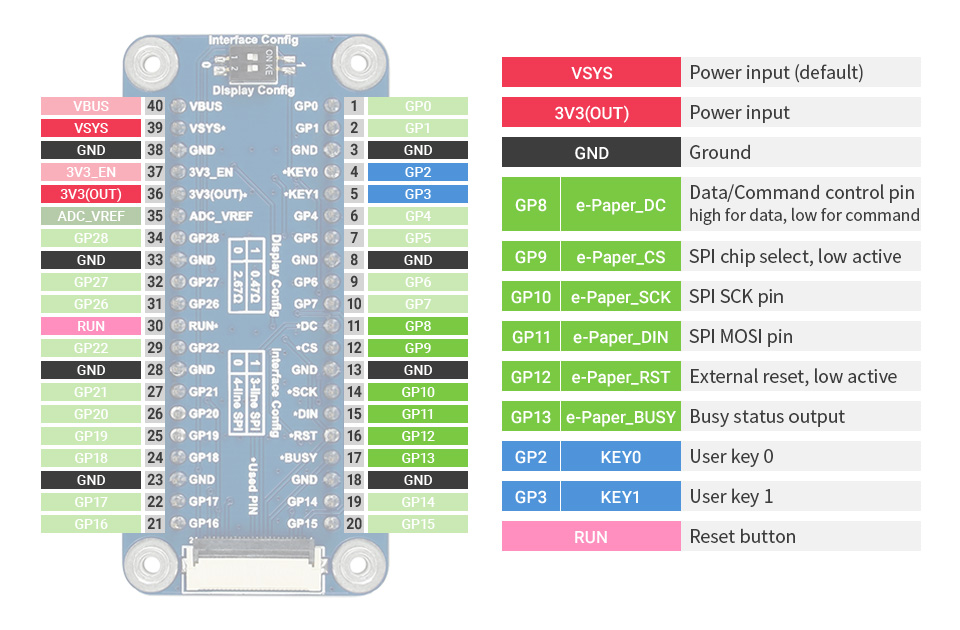 Application Examples
Suitable For Price Tags, Asset/Equipment Tags, Shelf Labels, etc.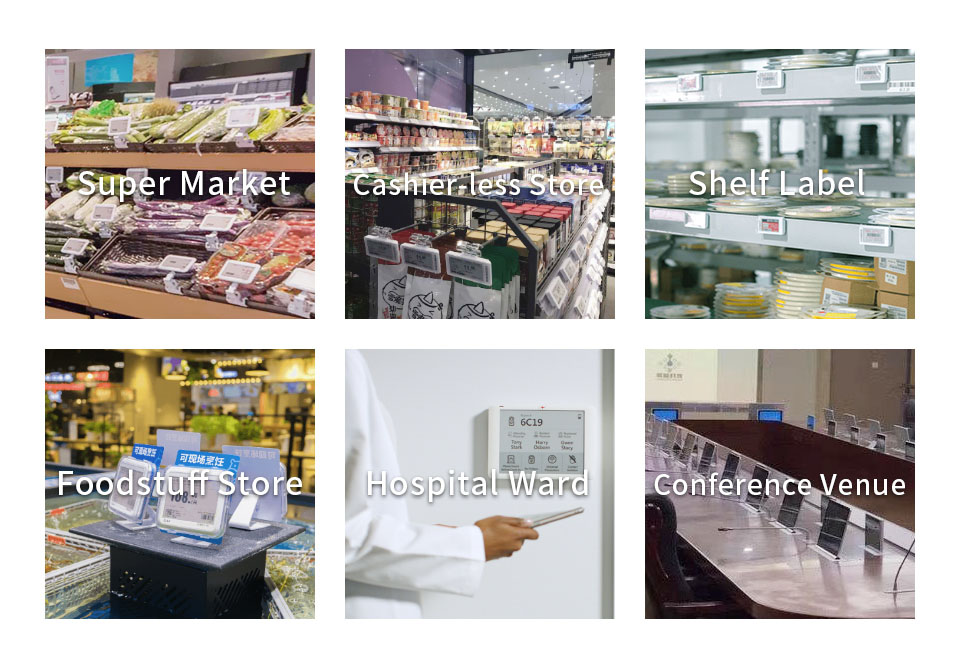 Shipping List
Weight: 0.036 kg
2.9inch e-Paper (D) x1
Pico-ePaper-Driver-Board x1
Standoff pack x1
Information
Notice for California Residents: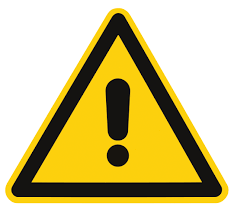 WARNING
: Cancer and Reproductive Harm - 
www.P65Warnings.ca.gov