Educational Kits
Some Interesting Electronic Kits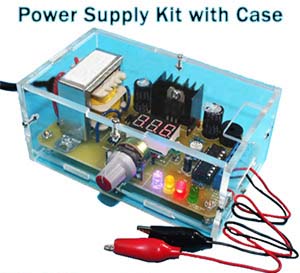 The AK-20 is an action-packed student power supply kit. Once assembled it is not only useful but also visually stunning. It comes with an attractive acrylic clear case and a three digit seven segment voltage readout. Includes a power supply, cord and output leads with alligator clips. Adjustable 2 Watt DC power supply with an output voltage range of 1.25 to 12VDC. Input voltage is 115VAC. In addition to being a 12 Volt DC variable power supply, this product has a buzzer to identify if a signal feed to its input is live, alternating or a modulated wave. It also comes with a DC pulse wave generator where you can tweak the duty cycle using the internal 100k potentiometer. More info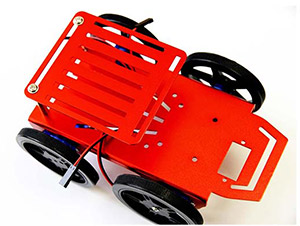 More info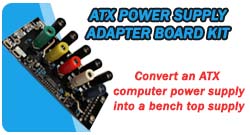 A very useful board, simple and elegant, allows you to
convert any standard ATX computer power supply into a perfect supply for breadboarding and general electronics workbench use
. This ATX adapter board offers all these features, has standard 0.75" jack spacing for dual-banana plugs, and has color-coded binding posts for each of the voltage rails: 5V standby, 3.3V, 5V, +12V, -12V. This project comes as a complete kit, with the PCB, all components including binding posts, components, and ATX connector, plus comprehensive assembly instructions which includes the schematic diagram and PCB assembly diagram, as well as drill templates for panel mounting.
More info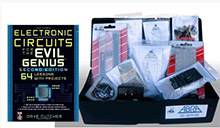 This Combo includes the book
Electronics Circuits for the Evil Genius 2/E and the Electronics Kit
needed to complete the projects in the book. This comprehensive combo provides both theory (book) and practice (kit) and is an excellent teaching tool for students, hobbyists and teachers. The Evil Genius Electronic Kit removes the frustration factor. It includes: -All of the components and hardware needed to complete the lessons and projects in the book. -Nine user ready Printed Circuit Boards for all the projects in the 2nd edition book.
More info