The 
FIT0674 is a regulated power supply for four 18650 batteries. It's able to charge the batteries and carries 6 separate outputs, which can be regulated to achieve the desired voltage and current. It's also equipped with short-circuit protection for every output for long-lasting life. 
You already have all kinds of power supply equipment such as a dry battery, lithium battery and power adapter, etc., but in actual use, you still face problems like, not being portable, no multi-way output, consuming electricity too fast or inconvenient to charge. Then you may just need a power module like this.

With a built-in charging circuit, the power module allows four 18650 batteries to be connected in series and features 6 independent outputs: 2-way 5V/5A, 1-way 9V/3A, 1-way 12V/2.5A, 1-way 24V/1A and 1-way 1~20V(2.5A) adjustable output. Each output employs an independent power chip, which makes the product able to power multiple devices steadily at the same time.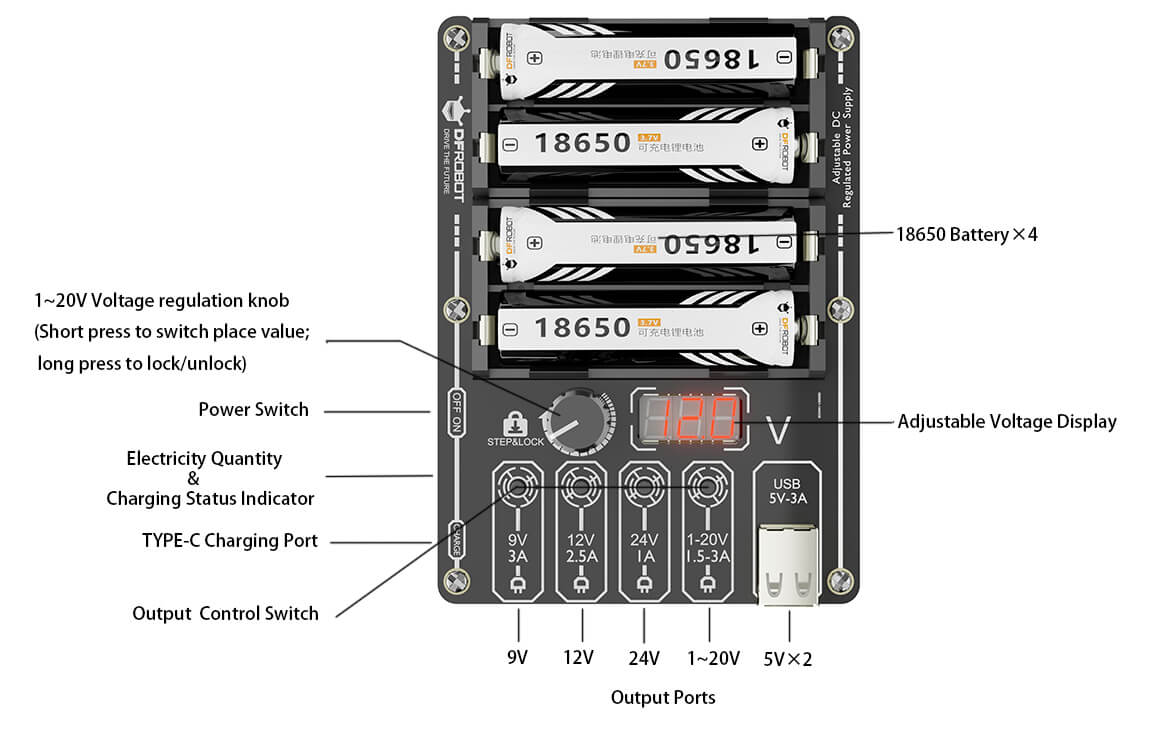 FEATURES

Small and portable

With a built-in charging circuit


With short-circuit protection
SPECIFICATION
Battery Specification: 3.7V 18650 rechargeable lithium-ion battery connected in series (support 18650 battery of 65mm and 67mm, not support 69mm battery with protection board)
Charging Port: USB-TYPE-C

Charging Current: 2A

Charging Time: about 4 hours (laboratory data, using 2300mAh battery as test sample)

Voltage Accuracy: 3%

Electricity Quantity Display: 4 LED

Output: 5-way fixed voltage and 1-way 1~20V adjustable output

Connection Specification:


DC2.1 to DC2.1 Connection wire: 50cm long

DC2.1 to Alligator Clip: 50cm long

DC2.1 to Connector Plug: 50cm long

DC2.1 to LattePanda Power Supply Port: 50cm long

Wire Rated Carry Current:13A (16AWG)


USB Port 1:


USB-A Interface

Rated Voltage: 5.2V

Rated Current: 3A

Peak Current: 5A


USB Port 2:


USB-A Interface

Rated Voltage: 5.2V

Rated Current: 3A

Peak Current: 5A


9V Port:


DC2.1 Interface

Rated Voltage: 9.2V

Rated Current: 2.5A

Peak Current: 3A

Independent Output Switch


12V Port:


DC2.1 Interface

Rated Voltage: 12V

Rated Current: 2A

Peak Current: 2.5A

Independent Output Switch


24V Port:


DC2.1 Interface

Rated Voltage: 24V

Rated Current: 600mA

Peak Current: 1A

Independent Output Switch


Adjustable Port:


DC2.1 Interface

Rated Voltage: 1V~20V

Voltage Adjustment Resolution: 0.1V

Rated Current: 1A (20V)~2.5A(1V)

Peak Current: 1.5A(20V)~3A(1V)

Encoder Adjustment, long-press to lock or unlock

Independent Output Switch

APPLICATIONS
Outdoor debugging
Exhibition testing

Robot competition

SHIPPING LIST
Adjustable DC Regulated Power Supply x1
DC2.1 to DC2.1 Connection Wire 50cm x1

DC2.1 to Alligator Clip 50cm x1

DC2.1 to Connector Plug 50cm x1

DC2.1 to LattePanda Power Supply Port 50cm x1

User Guide x1