BlackBox Motion Control System
Welcome to the future in CNC machine control. Our all-in-one plug and play OpenBuilds BlackBox Motion Control System is revolutionizing CNC.
CNC Routers, Plasma Cutters, Laser Cutters or any other CNC Machine – the BlackBox will handle the job thanks to its multiple connection options. The OpenBuilds Xtension Wiring EcoSystem makes it super easy to connect with any tool head without comprising on security thanks to our multiple limit switches.
What is Included
(1) Muscle Board (4X Stepper Drivers)
(1) Brains Board (CPU)
(6) BlackBox Panels
(1) 60mm 24v Cooling Fan
(2) Cooling Heatsinks for Drivers
(1) Switch Cap
Xtension Connectors
Assembly Hardware Set
Pair with a Genuine MeanWell Power Supply to ensure proper voltage is applied at all times.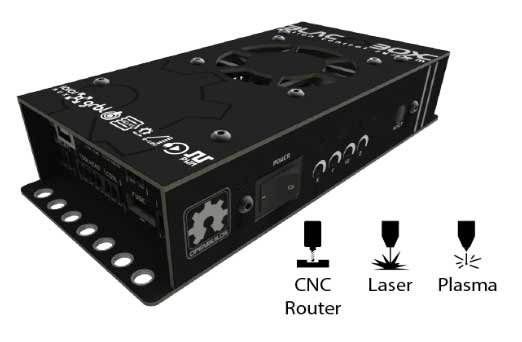 10 Amp Input Power Fuse
Configurable Relay for generic use cases (Plasma trigger, Coolant Pumps, Spindle control, etc )
Door Interlock signal connector to allow machines with enclosures to pause/resume when the door opens/closes
4X High Powered 4.0A (peak) Stepper Drivers
Auxiliary Serial Input for alternative connectivity expansion
USB Interface for Plug and Play
Up to 24v 5A switched output for coolant devices such as 24v DC pumps, solenoids, contactors, or Solid State Relays
Input Power Polarity protection with indicator LED
5v PWM and 5v Direction Spindle Signals
0-10v Analog Spindle Control Signal Output for VFD Spindles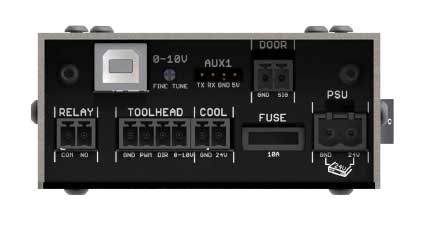 Plug and Play easy connectors that work directly with the OpenBuilds Xtension wiring ecosystem
3 x Endstop inputs with optional power output (Selectable 5v/24v) for use with mechanical or powered
switches such as Inductive sensor
Endstop inputs are protected against high voltages to allow for use of 24v Inductive Sensors
XYZ Probe input
Slave Axis configurable as a slave X, Y or Z
Up to 1/32 Micro stepping (Defaulted to 1/8 for higher Torque)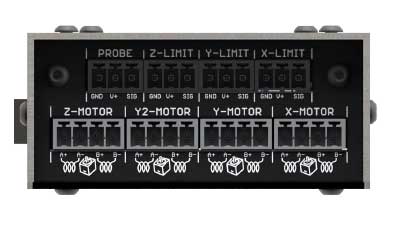 Easily reachable Current Adjustment Potentiometers
Power Switch (no more reaching for the power strip or unplugging)
Built in cooling solution/through airflow design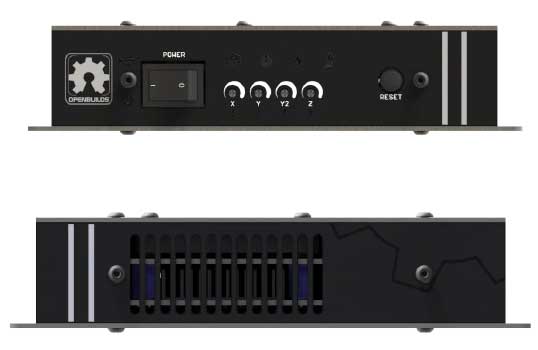 Powered by ATmega328p 8 bit Microcontroller running Grbl 1.1
All new high end Enclosure/Case included, with built in back-lit indication LEDs
Dimensions 171mm (mounting flange included) x 80mm x 36.4mm
Muscle & Brains boards stacked configuration
Easy V-Slot compatible Mounting
Well planned locations of all connectors to allow for logical cable management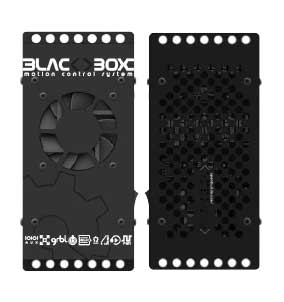 OpenBuilds CONTROL for easy setup and configuration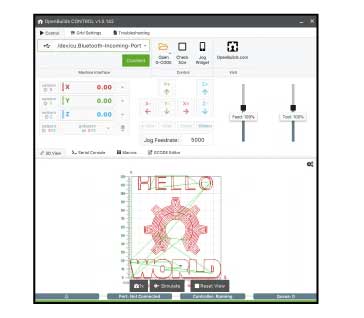 Assembly / Support / Documentation:
3D Model Resources:
Notice for California Residents: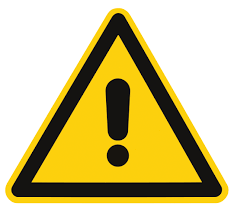 WARNING
: Cancer and Reproductive Harm - 
www.P65Warnings.ca.gov