SKU-0216 Bare Conductive Electric Paint 50ML
Design, discover, create. Your design and electronics projects are about to change forever. Paint and print circuits and sensors or use as a  conductive adhesive on almost anything including paper, plastic, textiles and conventional electronics
Put this flexible, revolutionary material in your toolbox today!
Works with:
Touch Board, Pi Cap, electrical components,  prototyping materials, PCBs, microcontrollers, Arduino, Raspberry Pi, MaKey MaKey and e-­‐textiles. Use with the Touch Board or Pi Cap to make touch sensors.
LEVEL: Beginner to Expert Engineer
Paint a Stencil With Electric Paint
Applying Electric Paint with stencils is easy. Whether you're using an existing stencil or designing your own, the following tutorial will give you a quick demonstration on how to stencil with Electric Paint.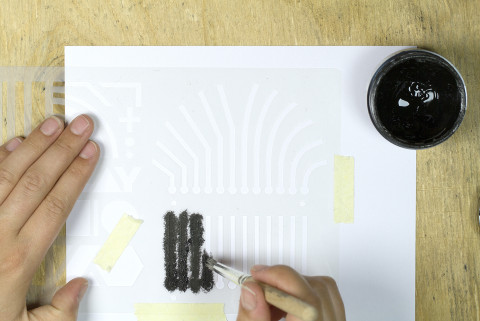 A Quick Tutorial on Diluting Electric Paint
People often ask us whether they can dilute Electric Paint, and the answer is yes! However, there's some things you need to keep in mind before you do so. Read this tutorial to find out how you can dilute the paint to maintain its performance.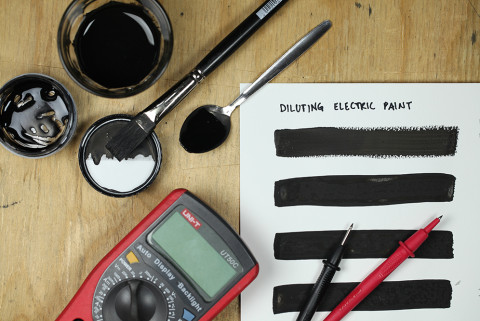 How To Seal Electric Paint
In this post we talk about a few ways to seal the connections and sensors you've made with different sprays and varnishes. And don't worry – it will still conduct!